PJ at the Pool: Uptown
Sunday, July 28th – 3:30-5:30 pm
New Orleans Jewish Community Center – UPTOWN
5342 St. Charles Avenue, New Orleans, LA 70115
Join us for fun and games in the pool! BYO towels, pool toys, and kids of any age. Free and open to PJ Library families, both members and non-members of the JCC. A cool & refreshing kosher snack will be served.
Please RSVP: 504-215-8757, pj.jennette@jcrs.org
---
PJ Library Parents' Night Out: TRIVIA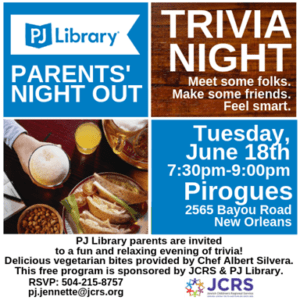 Tuesday, June 18th, 7:30 – 9:00pm
Pirogues, 2565 Bayou Road, New Orleans
Join us for Parents Night Out TRIVIA on Tuesday, June 18th at Pirogues, my favorite chill Mid City neighborhood bar!
(I met Pirogues owner and chef Albert Silvera at a JNOLA event years ago. He's a good friend, gracious host, and makes the best bar food in town, IMHO.) Chef Albert will be providing hearty and delicious vegetarian eats and there will be a cash bar.
Special guest, Bob Marmor, Program Officer at the Harold Grinspoon Foundation will be with us.
This free program is sponsored by JCRS & PJ LIBRARY with support from the Harold Grinspoon Foundation.
RSVP: 504-215-8757, pj.jennett@jcrs.org
Here's the Facebook event. Invite your friends!
---
New Orleans Jewish Parents Facebook Group
Connect with other local Jewish families online at the New Orleans Jewish Parents Facebook Group. This group is a space where you can meet other local Jewish parents, find info about local event for Jewish families, ask questions to other parents, and share event info. Join the group to see my recent posts about the connection between the Jewish value of appreciating what we have and the recent craze spurred by Marie Kondo's book The Life Changing Magic of Tidying Up. Also, there's a quick poll there for a parents' social event.