Each year, 150-250 Jewish children and state hospital residents receive a package from JCRS that holds at least eight small gifts, one for each night of Hanukkah. The youths who receive these gifts are known to JCRS and, typically, are from lower-income families that are already enrolled in one or more of the JCRS scholarship programs. Some of the child recipients also have special needs, as do all of the Jewish adult state hospital residents who receive a package from JCRS.
Gift recipients live in all of the seven states served by JCRS.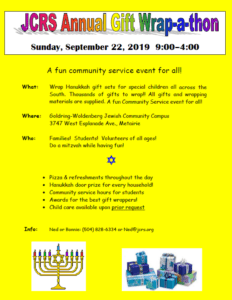 Sunday, September 22, 2019
9:00 am – 4:00 pm at Goldring-Woldenberg Jewish Community Campus (Metairie JCC)
3747 West Esplanade
Please contact Bonnie Lustig at 504-828-6334 for more details on the wrapping event, or email her at bonnie@jcrs.org.
Images from the Wrap-a-Thon